Last time I posted about building PCs was in 2011. That PC lasted me quite a while - 6 years - at which point it got an upgrade that I didn't write about (Intel 6700k on an Asus Z170, with a GTX 970). That build certainly held its own and even ran Half-Life: Alyx on a Rift just fine. But, the graphics card in particular is starting to show its age, and hey, with everyone stuck at home I figured it was time for another upgrade.
I haven't really stopped using Macbook Pros for work - so my PC mostly gets used for gaming (and occassionally reusing my mouse/keyboard/monitor with a docked MBP, via Synergy for working on side projects). Gaming is usually synonymous with an Intel-based build (and all my builds so far have used their chips), however, I was pleasantly surprised to discover that AMD has been giving Intel a run for their money of late. Hooray for competition!
The Ryzen 3rd gen CPUs are without a doubt the best bang for buck in the consumer CPU market. Even with Intel's 10th generation chips launching, which bring market-leading raw clock speed performance, they still can't match AMD's price point to core count ratio. While Intel still dominates the highest end gaming segment, doing almost anything else on your computer (like streaming, multi tasking in your browser, or writing code) means that AMD pulls ahead of Intel quite handily at the cost of slightly lower gaming performance.
On the graphics card end, NVIDIA is still king of the hill. Wish there were more competition here, but the Turing RTX 20 series are the best consumer cards in market, and with the new Ampere architecture expected to launch with the RTX 30 series cards later this year, there are no signs of them slowing down.
After a couple days of research, I settled on the final build spec.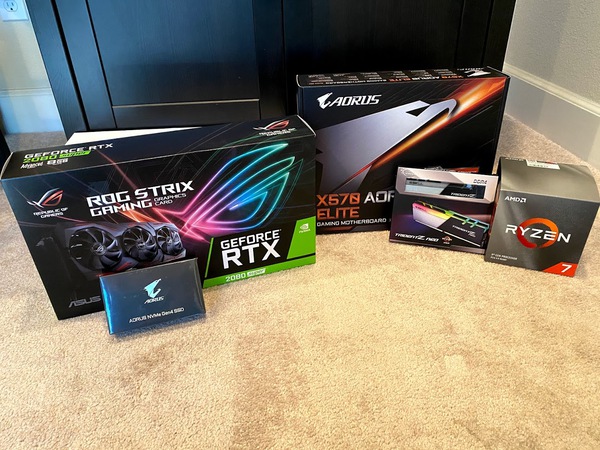 Actual assembly was easier than ever, with everything living on the board itself, cable management was trivial and the whole thing was up and running in just a couple of hours. I made one small change, which was to swap out the Wrath Prism cooler included with the CPU for a Hyper 212 (Black Edition). The prism cooler worked fine from a thermal perspective, it was just too noisy for my taste.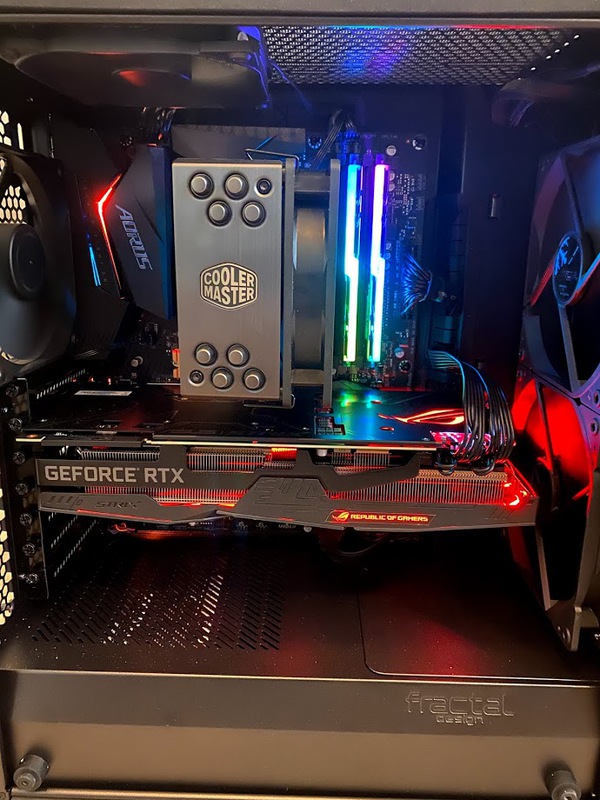 Final touches were on the actual desk setup. I had to figure out how to make use of my two old monitors alongside the new ultrawide. Decided to change out my desk to one that would fit all the monitors side-by-side with a couple of monitor arms. This is how it all came together:
The PC's been running smoothly and performed as expected on the benchmarks, though it runs a little hotter than I'm used to. Over a sustained gaming session, both the CPU and GPU stay just a little below 70°C which feels nominal, so I'm not too worried.
It felt like the whole PC building process has gotten much smoother over time, and the average consumer is lot more informed (YouTube has thousands of videos on the topic these days). Definitely a great time to get into it as a hobby if that's something you've always wanted to try!