tl;dr: My last day as a full-time employee of the Mozilla Corporation will be Friday, November 16.
Almost 5 years ago at FOSS.IN, I met a group of friendly folks, who despite having to endure the effects of an extremely long journey into a crowded city with less-than-ideal weather, patiently explained how the one-of-a-kind world of Mozilla worked. I had no idea what kind of impact those few days would have on my life, or that it would lead to a rewarding career writing open source software. In fact, it still boggles my mind when I think about the series of fortunate events that had to transpire to bring me where I am today.
A lot of things had to happen for my first patch to be committed. Myk spent hours teaching me how to build mozilla-central, taught me how to make a patch and put it on a bug, and explained how the review process worked. Of course, I was a total n00b back then, but I was also extremely lucky to have bz review my patch. As you can see on the bug, bz is the epitome of patience and kindness.
I got very lucky again a few months later, when I interviewed for an internship at Mozilla, and despite my (in my view) somewhat mediocre performance during the phone screen, Mozilla decided to take a chance on me anyway!
I spent the summer working on Weave with Dan Mills and the rest of the Labs crew, and made my first significant contribution in terms of code to Mozilla. At the time Labs was led by the amazing Chris Beard, and consisted of Atul Varma, Jono Xia (his last name was still DiCarlo back then!) and Aza Raskin, who had all arrived from Humanized earlier that year, and Myk. Dan was instrumental in moulding me from an amateur enthusiast into a professional programmer. It wasn't until the end of that summer that I really believed I could write code for a living. I owe much of my life today to Chris, Dan and Myk. I had a blast that summer with the most awesome group of interns, and left determined to come back and be a Mozillian for life.
I could go on and on about all my Mozilla memories (the two summits in Whistler, the numerous all-hands, office pranks, nerf ball wars, trip to Las Vegas, …) and all the cool projects I got to work on (Firefox Home, Jetpack, Rainbow, Apps, WebRTC…) but the gist of it is that my life has completely revolved around Mozilla for the last 4 years, and has fundamentally changed me as a person. I think it is very rare to find such a high concentration of splendid folks who are passionate, crazy smart, and have a sense of humour in one place.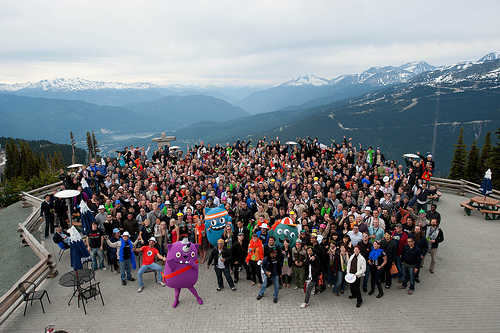 The highlight of my stay at Mozilla has definitely been the fantastic opportunity to work with some amazing people. Authors of the very same books I read as a student, people whose technical prowess leaves me in awe, folks who wrote the software I use on a daily basis, people who invented technology in use by billions, people who have taught me more in a few months than all my previous teachers put together, and people who I could only dream I'd meet some day, let alone work with. That wasn't all - I had the chance to work with so many unsung heroes - hardworking, humble and brilliant people who day-after-day managed to amaze me with their awesome splendid nature.
But I didn't just have the chance to work with amazing Mozillians. Being a part of the organization also gave me the opportunity to meet other people with similar qualities from around the world. Through work with standards bodies like the W3C and IETF, and community events like MozCamp, I had the chance to visit various parts of the world to soak in different cultures and ideas. I learned so much about life, food, love, etiquette, physics and everything else worth knowing, just by being a part of the community.

And so, even though it is cliché, it could not be truer that the decision to leave Mozilla has been one of the hardest in my life. Thankfully, I will always be a Mozillian, which I think is the best perk of being part of an open, community-oriented organization. John Lilly (who I had the fortune to meet, again, thanks to Mozilla) has written about how a person's first few years in their career goes on to define how they approach problems much later in life. I couldn't be prouder or happier that my first job has been with Mozilla. A very high bar has been set, and there is no doubt that I will continue to carry their watermark with me wherever I go.
Thanks Mozilla, for the best 4 years yet.
As for what's next, more soon!