ZOMG. Parallels' latest build brings along with it some nifty features. Which ultimately leads your desktop to look something like this: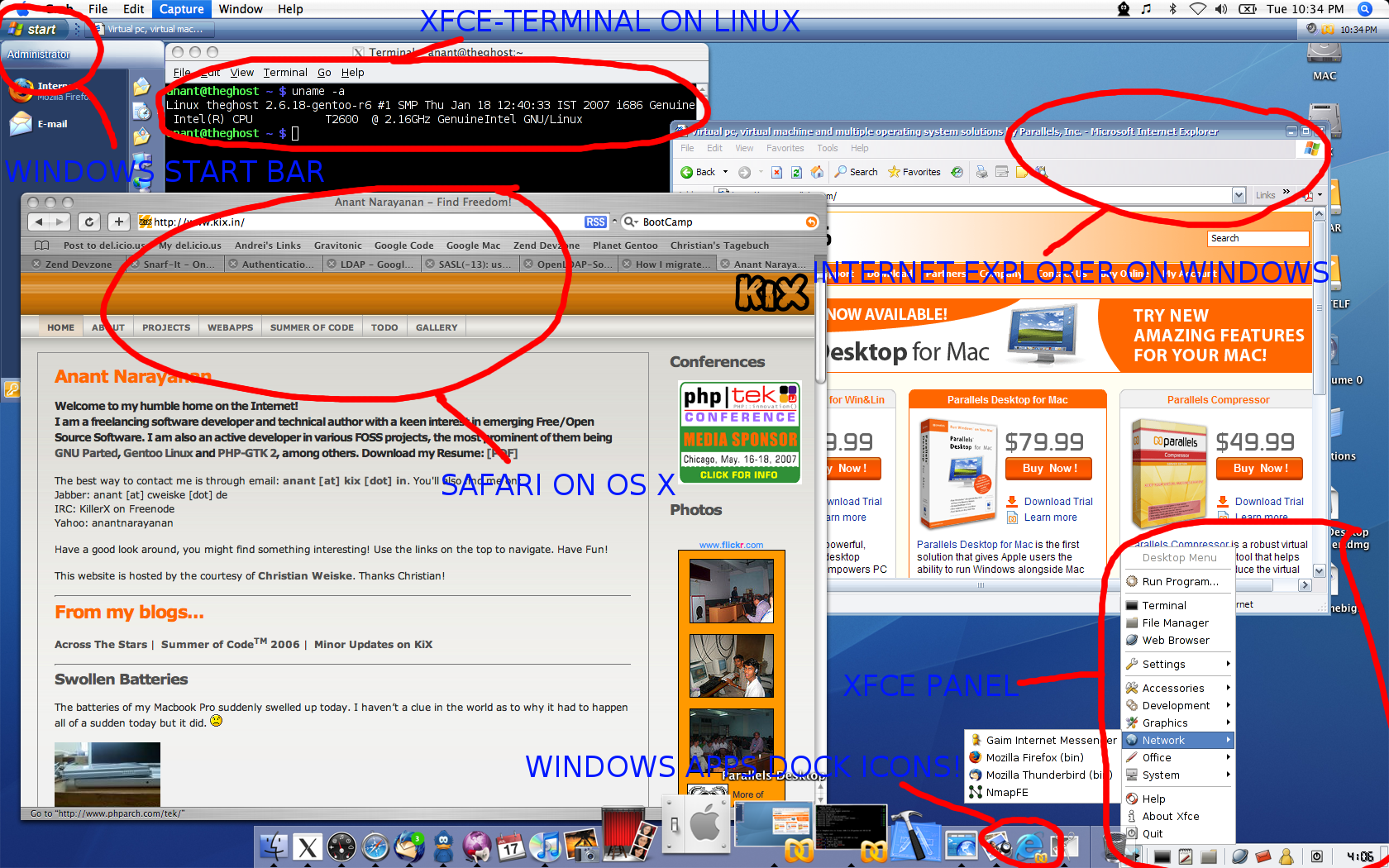 No, that's not some fabricated image made in GIMP. It's for real; you can now run all the big 3 OSes side by side, just as if they've known each other for years!
Here's how you do it:
Get yourself a powerful Intel Mac with 2Gigs of RAM (okay you may not really need this, but it's always a good idea).

Buy a copy of the latest Parallels Desktop. More than worth it!

Install your favourite Linux Distro and Windows on two Parallels VM's.

Or, if you already have BootCamp and want to use the native Windows already installed, Parallels allows you to boot from that too! I already had a native Windows running on Boot Camp, and I was up and running in no time with the useful guide you can find here.

Fire up the Linux VM, start the X server bundled with OS X. SSH to your Linux VM with X forwarding enabled, and start your favourite desktop: I chose XFCE, but Gnome/KDE will run equally well.

Fire up your Windows VM and enable the "Coherence" mode.

Start using Windows/OS X/Linux applications side by side, all within the comfort of your OS X desktop!

If you're really insane create virtual machines for FreeBSD and Solaris too…
This has got to be the most coolest thing I've ever done with a computer!
(In the screenshot: Windows Start menu just below the Apple menu; XFCE-Terminal on Linux; Safari on OS X; IE on Windows; XFCE-Panel (on Linux) just to the right of the OS X Dock. Windows applications even have their own Dock items; All Linux apps will be shown as only one X app though).